It's hard to believe that one wine can be so many things – light or full-bodied, still or sparkling, easy-drinking or complex – but Pinot Blanc is one of those grapes that can do it all!
There are many expressions of German Pinot Blanc to suit any season or occasion, all year long. Learn all about Pinot Blanc below, then add some bottles to your online shopping cart!
Cultivation: Where Perfect Pinot Blanc Comes From
Pinot Blanc (or Weissburgunder, as it's often known as in Germany) may be relatively unfamiliar to the average American drinker, but it's prominent in Germany, which has the highest number of plantings of the grape in the world. Today, Pinot Blanc makes up 5.4% of the country's entire vineyard area, making it Germany's 4th most widely planted white variety.
The German name, Weissburgunder, translates to White Burgundian, reflecting the grape's likely origins in Burgundy, France. Weissburgunder is a mutation of Grauburgunder (Pinot Gris), which itself is a mutation of Spätburgunder (Pinot Noir). While Spätburgunder is a red grape and Grauburgunder a pinkish grey one, Weissburgunder is the white-skinned variation, hence the French name Pinot Blanc.
Despite its origin, very little Pinot Blanc is planted in Burgundy these days. After Germany, the top producers are Italy (where it's known as Pinot Bianco) and Austria (where it's also called Weissburgunder), then France.
In Germany, it's grown in almost all 13 wine regions, but is found most commonly in the more southerly regions of Baden, Rheinhessen, and the Pfalz, reflecting the grape's preference for warm and dry climates. It thrives in deep soil in sites with good sun exposure. Otherwise, it's easy to grow and is celebrated by German winemakers as a variety that reflects a regions' distinct terroir.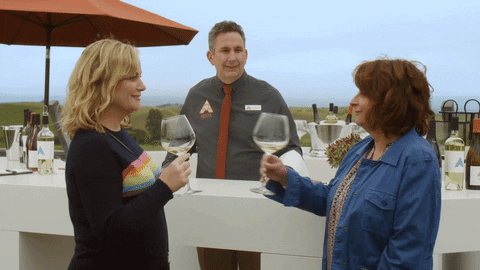 Wild for Weissburgunder's Flavors & Aromas
Weissburgunder is practically as versatile as Riesling – The grape can be used to produce full-bodied wines, light and crisp wines, sparkling wines, and even dessert wines. It can be aged in oak or stainless steel. You can find Pinot Blanc wines that are approachable porch pounders as well as brilliant and complex bottlings.
Typically, however, German Pinot Blanc is dry, light, and crisp. It's characterized by a yellow green to gold yellow color, fresh acidity, and a light to medium body. On the nose, Weissburgunder has subtle aromas of orchard and stone fruits and on the palate, delicate fruit and spice notes.
Any bottle is sure to delight, but pay attention to the region when picking a German Pinot Blanc: As described by Anna Lee C. Iijima for Wine Enthusiast, "Light-footed, mineral Weissburgunder sourced from steep, slate slopes of the Mosel could not be more different from the pristine, fragrant expressions of the grape in Rheinhessen, or the bold, muscular wines of Baden."
Pairing Pinot Blanc: Time to Sip & Chow Down!
Weissburgunder is known for harmonizing perfectly with many types of food, due to its well-integrated acidity. It pairs well with a variety of proteins from seafood and poultry to lamb and pork. Try it alongside:
Soft cheeses
Crab & avocado salad
White pizza with mushrooms
Quiche Lorraine
Shrimp Pad Thai
Grilled chicken with garlic and tahini sauce
Pasta with creamy pesto sauce
Tempted to taste? Check out Wine.com's German Pinot Blanc offerings in your state.
If you need inspiration on more German varieties to fill a case, check out our blog posts on German Pinot Gris, Rosé, Riesling and Sekt, or explore more of Germany's white and red wine grapes.